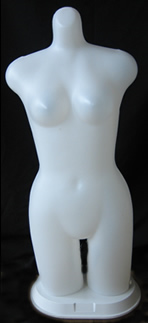 ---
Detail Description:
Freestanding
0.9 cm hole in back of neck can be used to hang or suspend mannequin
Plastic translucent form fits over two fluorescent bulbs
No assembly required
Dressing clothes is easy
---
How much is shipping?
How long does it take to ship?
View our Shipping Map and rate chart for an estimate of delivery times & costs.
We generally ship same day if order is received by 10AM EST.


---
This price is only offered for a limited time
We have over 10,000 mannequins in stock ready to ship from the NYC area
We are America's LOW COST MANNEQUIN LEADER
You are buying FACTORY DIRECT.

Due to the nature of handcrafted work small imperfections are normal and should not be considered defects.