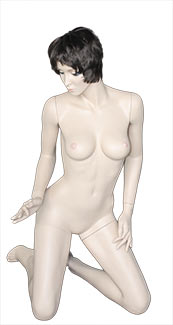 Brand New, High Quality, Skin-tone-finished FIBERGLASS mannequin
Competitors charge more for just plastic, you're getting quality fiberglass!
Fine attention to facial detail by our expert craftsmen give stunning, sexy looks.
Make-up is hand-painted by skilled artists
Delicately placed false eyelashes, Bald Head fit all style wigs
Consisting of five major components
Easy assembly, Easy dressing
Wig and Clothing are not included
Note: The arms are detachable and can be easily moved up and down BUT do not bend at the elbow.
Due to the nature of handcrafted work small imperfections are normal and should not be considered defects.
---
How long does it take to ship?
View our Shipping Map and rate chart for an estimate of UPS Ground delivery times.
We generally ship same day if order is received by 3PM EST.


---